SUCCESS STORIES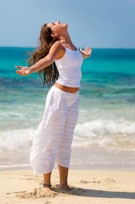 One of my Oriental instructors who had practiced for many years in China before coming to the United States told me that acupuncture is effective for about 80% of the people. There is no telling why or who will not get relief. You just have to give it a try.

You might be interested to know some of the conditions I've treated with success.

- Osteoarthritis - A patient came who could barely walk into the office. There is structural damage to the knees. Yet, she not only finds this helps make the pain more manageable, her overall energy and quality of life have improved. She just feels better.

- Spinal Stenosis - A patient who reports, "I'm a new person" after receiving acupuncture treatments. She feels a new aliveness and quality of life.

- Fibromyalgia - A patient who was nearly in a wheel chair before acupuncture treatments began is now studying with a personal trainer three times a week and feeling close to normal. "I feel like my old self again".

- Female Issues - Hot flashes and night sweats: Patient on HRT wanted off. With acupuncture and herbs, maintained a comfortable body temperature without the flushes. Painful periods have been made so much more comfortable with acupuncture. Infertility: There is an ever growing list of the names of children who have been born after acupuncture treatments in my office.

- Rheumatoid Arthritis - Patient used herbal therapy only to get rid of the swelling, inflammation, and pain of an acute flare-up. No side effects. No immune-suppressant drugs.

- Lupus - "I feel better than I have in many, many years".

- Neck Pain - "I come in, my shoulder hurts, my neck hurts, and my hip hurts. I walk out feeling much better".

- Sciatica (Long Term) - "I forgot how good it feels to feel good".

- Anxiety & Depression - "You've helped me come out of my shell more than ever in my life".